Fundraising Programs
On #GivingTuesday, we host our annual online crowdfunding event. Funds raised go toward financial assistance and other school-related projects and needs. The day typically lasts 24 hours — midnight to midnight — but can be extended to a week-long event, so keep watch on our #GivingTuesday page for yearly information, which you can find here.
Christmas Wreath Fundraiser
This fundraiser is strictly for our 8th grade students to earn money for their Washington, D.C. Trip each year. These Evergreen Decorative Wreaths are fresh, full and fragrant! When it gets close to the holidays, make sure to order one of these for your home.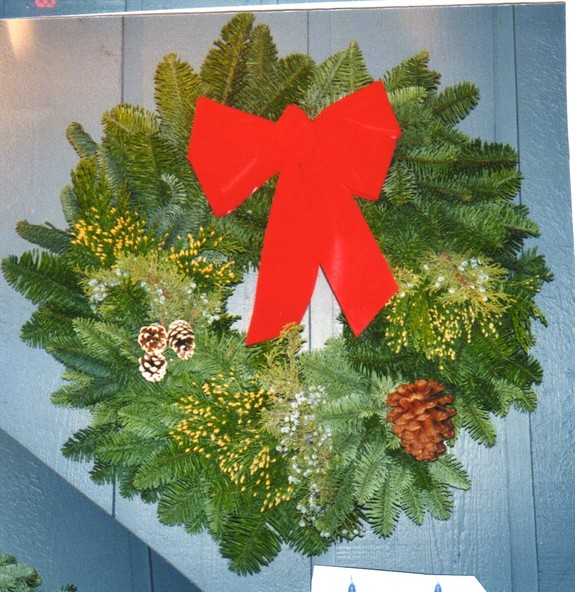 These flower baskets are perfect for Mother's Day! We get to sell these gorgeous flower baskets for a competitive price. Check back here in March to see when you can order! Click here to view the order form.
The CCS dinner auction is the biggest fundraiser of the year and is held in March. It is a time to enjoy good food, fellowship and have a great time supporting Centralia Christian School! Preparations for the auction begin in October, and we need many volunteers to make the auction a reality. Please visit this page and/or contact the office for more info.
---
Shopping Programs
The CCS Foundation sponsors a scrip program, called L-TIP, which allows you to purchase prepaid gift cards from local and national retailers. The cards you purchase through the program generate rebates which can be used as a credit to your tuition account, cash back to you, and/or as a tax-deductable gift to the school. The program is convenient and easy. Order your scrip cards before Monday and pick them up in the office the following Friday. Go to www.shopwithscrip.com to set up an account with CCS's enrollment code: 668LL6A31 LL48.
eScrip is a quick and easy way for you to contribute to CCS each time you shop at no cost! Simply log onto www.escrip.com and register your Safeway Club card, Debit, ATM, VISA, MasterCard, American Express, Discover, Diner's Club or other cards. Registering your cards does not affect your club card savings or fuel discounts. The participating merchants contribute each time you make a purchase using these registered cards. There are no receipts to collect, no vouchers or certificates to buy, no hassles to you and every purchase counts. For more information visit: www.escrip.com and enter the eScrip Group ID: 500002851.
Shoparoo is a hassle-free fundraiser using your smart phone. Get started by downloading the free app on your Android or iPhone, select our school and snap a picture of your first receipt. It doesn't matter where you shop or what you buy — every grocery receipt submitted results in a donation to our school and every non-grocery receipt submitted results in an entry to monthly and yearly sweepstakes drawings. For more information visit: www.shoparoo.com.
Rite Aid Wellness+
RXfundraising and Rite Aid have a fundraising program that earns funds every time a registered participant fills a prescription or shops at their local Rite Aid using their Wellness+ rewards number. The program is free for participants to use and Centralia Christian School receives funds at the end of each quarter based on the number of prescriptions filled and the qualifying purchases registered participants make. Getting started is easy. Just follow these three easy steps:
1. Support Centralia Christian School by completing the registration form at https://support.rxfundraising.com/centraliachristianschool.
2. Register for a Rite Aid Wellness+ rewards number (if you don't already have one).
3. Start using your Rite Aid Wellness+ rewards number to accrue funds for us on prescriptions and qualifying purchases. RXfundraising will automatically give funds to Centralia Christian School for 36 months if you continue to fill prescriptions and shop at Rite Aid using your Wellness+ rewards number.
AmazonSmile is a simple and automatic way for you to support CCS every time you shop at Amazon.com, at no cost to you. When you shop, you'll find the exact same prices, vast selection and convenient shopping experience as before with the added bonus that Amazon will donate a portion of the purchase price to us. To shop simply go to smile.amazon.com in your web browser on your computer or mobile device. You may also want to add a bookmark to make it easier to return and start your shopping. You can use the same account on Amazon.com and AmazonSmile. Your shopping cart, Wish List, wedding or baby registry and other account settings are the same. For more information visit: http://smile.amazon.com/ch/91-1477712
Clip and save Box Tops for Education from hundreds of participating products. For every 25 box tops that your student turns in, they will be entered into a drawing for fun prizes held at the end of the year. Please neatly trim box tops, check the expiration date, gather them in an envelope marked with your student's name and turn them into the office. For more information visit: http://boxtopsforeducation.info
Used Ink and Toner Cartridges
If you save your used ink and toner cartridges and turn them into the office, the school earns reward dollars by recycling these items.